If you struggle to hear your TV in your home theater setup, you're not alone. Soundbars are a great way to improve the audio of a TV, but they are often costly. However, there are more basic ones on the market at a lower price, but are they worth purchasing? 
A cheap soundbar is worth purchasing because even basic soundbars improve internal TV speakers. Soundbars provide a fuller sound and enhanced bass from a front-facing source, better than TV sound systems. 
So, let's discuss why a cheap soundbar is still worth buying. I'll give you more context about soundbars and why they are a must-have for every home entertainment sound system. I'll also tell you about the best budget soundbars, guide you through soundbar positioning and features, discuss the difference between a surround sound system and a soundbar, and explain the difference between a cheap soundbar and a more expensive option. 
Should I Get a Cheap Soundbar? 
You should get a cheap soundbar because it will still provide better sound quality than your TV. Cheap soundbars may not provide top-tier audio, but they are better than built-in TV speakers. 
Even the cheapest soundbars can perform well, and they certainly enhance your TV's speaker system. Cheap soundbars may not provide the kind of surround-sound, cinematic sound quality you dream of, but they are still a great way to hear your TV and movies better, especially if they are dialogue-heavy.
Additionally, a soundbar makes it possible to hear the sound coming from the front of your TV and not from behind, and that alone enhances the entertainment experience. Furthermore, basic soundbars provide better bass than internal TV speakers. 
If you don't have the budget for an expensive soundbar, it is still worth purchasing a cheap one to improve your listening experience. Your sound with a cheap soundbar may not be perfect, but it will be better!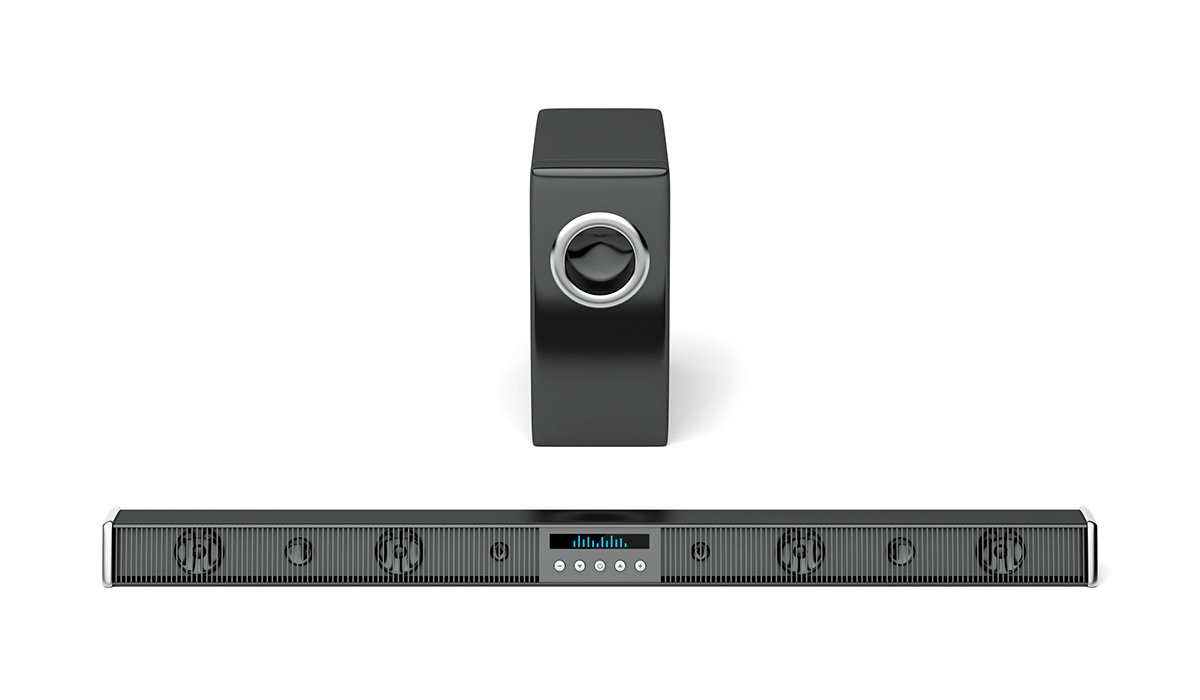 What Is a Soundbar?
A soundbar is a speaker accessory designed to amplify your TV's sound. They are usually rectangular, and they are increasingly popular due to the inferior speakers in modern TV sets. 
Soundbars add more powerful sound quality to your TV without the added bulk of a speaker package. Instead, all you'll need to make room for is a sleek rectangular accessory that usually sits directly underneath the TV screen.  
Many modern TV sets have speakers that provide bad sound quality because TV designs have become slimmer, so the space allowed inside them for speakers has gotten smaller. 
Most television manufacturers place built-in speakers in the back of the TV. So, the sound goes directly into the wall instead of out into the room. This position often increases echoing and "tunnel-like" sounds.
Contrastingly, soundbars are seven speakers in a small unit, positioned in a way to achieve high sound quality. The speakers inside the bar send out different sound streams to other parts of the room, which will bounce sound off your walls to give a surround sound effect. 
Benefits of Soundbars 
You may be wondering if purchasing a soundbar is necessary. Indeed, you can probably live without one and adjust to the sound quality of your TV set. 
However, a soundbar can change your home theater experience and make watching your favorite shows, movies, and sporting events a more enjoyable experience. 
So, here are some benefits of owning a soundbar: 
 

Your TV will sound better.

The main reason people buy soundbars is to improve their TV set's sound quality. Even budget soundbars improve a TV's audio and provide a more expansive sound that reaches every part of the room. Ultimately, a soundbar can only enhance your at-home entertainment experience. 

Soundbars are a cost-effective alternative to a complete sound system.

A whole surround sound system will provide better audio than a soundbar, but it comes at a price. Most people don't have the budget for a high-quality, expansive sound system. A soundbar is a great alternative. 

Soundbars don't take up a lot of space.

Unlike a complete sound system, soundbars don't need a lot of additional space in your home theater. Soundbars are conveniently sized accessories that you can easily fit in a narrow spot in front or below your TV. Soundbars can also be wireless so that you can place them anywhere. 

Most soundbars come with a subwoofer.

Many soundbars on the market come with a

built-in subwoofer

, which adds extra bass to your speaker. That means your home theater will sound similar to the kind of audio you experience at a movie theater. Even if you are not a fan of bass, the bass levels of a subwoofer are adjustable.  

Soundbars are great for playing music.

Many people use their TVs to play music, so not only will your TV shows and movies sound great, but any music you put on will also sound crystal clear. 

Soundbars are great for those with hearing loss.

If you or a loved one have difficulty hearing, TV speakers are almost useless. A soundbar can fix this issue by making the sound clearer and easier to understand. For those with hearing loss, I recommend the

ZVOX Dialogue Clarifying Sound Bar

from Amazon.com because it has advanced hearing technology designed explicitly for hard-of-hearing individuals.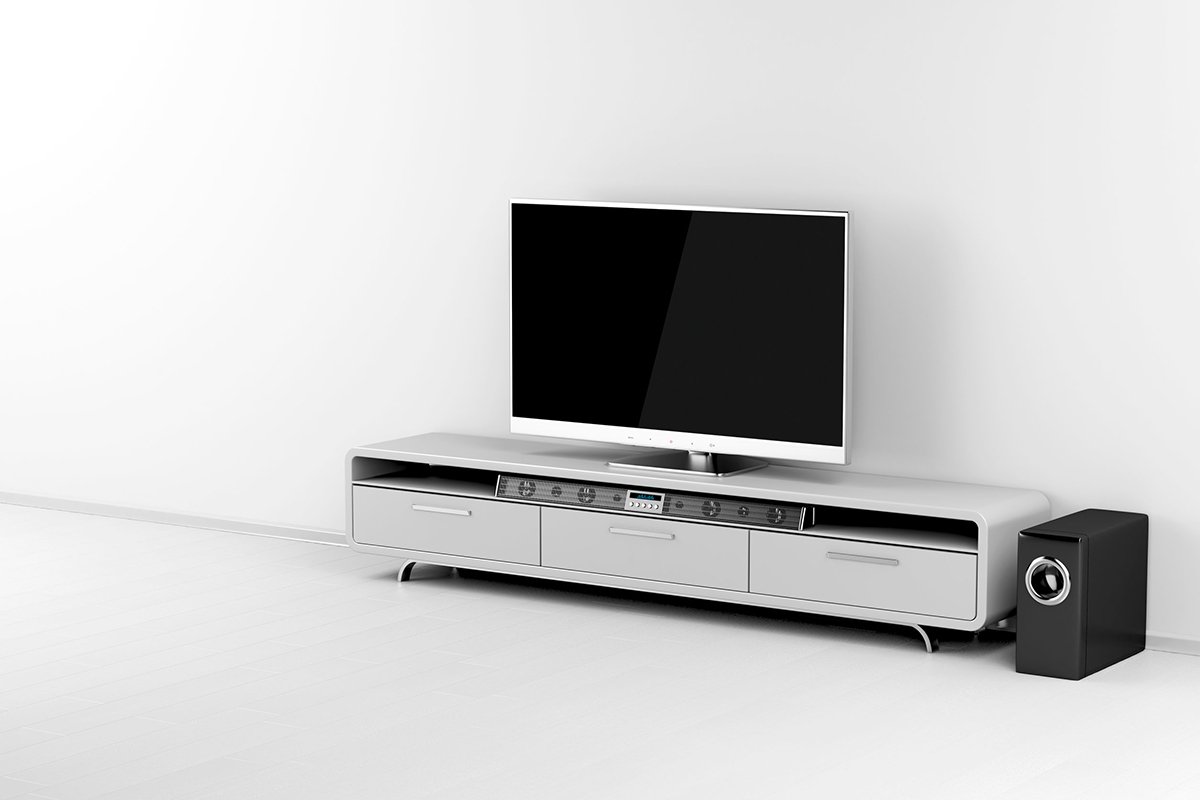 The Best Budget Soundbars 
If you're in the market for an affordable soundbar, look no further! Here are some of the best cheap soundbars available for people on a budget: 
All of the soundbars listed above will help you make your home theater the best room in your house without breaking the bank. 
Cheap vs. Expensive Soundbars 
Affordable soundbars are great if you don't have the budget for a higher-end option, but there are some essential qualities of expensive soundbars that budget soundbars cannot match. 
Here are some reasons why some soundbars cost more than others: 
Expensive soundbars have more features.

Some higher-end soundbars have premium technologies such as Dolby Atmos, built-in Wi-FI, built-in Bluetooth, virtual 5.1 surround, and dynamic sound that budget soundbars do not have. 

Costly soundbars have higher-quality construction.

The most expensive soundbars have better hardware, more channels, and higher-quality materials than the others. 

Most cheap soundbars don't have dedicated tweeters.

Tweeters produce high-frequency sound, so cheap soundbars have less accurate sound than more expensive ones with dedicated tweeters for various frequencies.  
If you have plenty of money lying around to spend on your sound system, I recommend the Samsung HW-Q950A 11.1.4ch Soundbar from Amazon.com. This soundbar has a driver array spread across two satellite speakers and a subwoofer. So, it's about as close you can get to achieving the sound quality of a complete surround sound system without actually having a surround sound system. 
Ultimately, with soundbars, you tend to get what you pay for. If you want the best sound quality, you're going to have to pay more for a higher-end soundbar. 
The Best Place for Your Soundbar
Once you find the best soundbar for you, you may wonder where to put it. Here are some things to keep in mind: 
If possible, you should place your soundbar directly in front of your TV. 

Make sure it is on a flat surface. 

The soundbar should be centered so the sound is dispersed evenly throughout the room, which will provide a more balanced listening experience. 

Try to put your soundbar at the height of your ears when you're sitting and watching the TV. 

Add soft furnishings to improve sound quality even further, such as carpets and curtains. 

Don't hide your soundbar in a cabinet. Doing so will cause the sound to seem boxed in. 

Pay attention to whether your soundbar has rear speakers or not. These speakers bounce sound off your back wall. 

If your soundbar allows for wall mounting, play around with which position you prefer. Many soundbars do sound best when mounted to a wall.  

Read the instructions that come with your soundbar, as many guides offer suggestions for the best location for that particular model. 
If you keep these tips in mind while setting up your soundbar, you're going to get the best bang for your buck in terms of sound quality, even with the cheapest soundbars. 
Soundbar Features To Look For
With so many soundbars on the market, there are various features that you can look out for when you're trying to find the best one for you. These features include: 
Night mode:

Some soundbars have a night mode that compresses the range of the audio, which is perfect for those with roommates or thin walls. 

Center channel:

A center channel ensures that voices are loud and clear, perfect for those who listen to many podcasts or other dialogue-heavy content.

Separate wireless subwoofer:

A separate subwoofer adds to your bass quality, which is excellent for those who like action movies. 

Dolby Atmos support:

Dolby Atmos is a 3D audio format standard in Blu-ray DVDs, and a soundbar that supports this format will allow this audio to shine. 
The best soundbar for you depends on what you frequently watch, so keep an eye out for these features to determine which soundbar to buy.  
Soundbar vs. Surround Sound
When setting up your home theater, you'll have to decide if you'd rather have a complete surround sound system or a soundbar. Surround sound systems have been popular for decades, and the sound quality you can get from them can be incredible. 
These systems are also highly customizable because you can buy everything separately according to your needs and preferences. 
However, getting a surround sound system is not realistic if you're on a budget. Even the most inexpensive systems typically cost several hundred dollars. Additionally, these systems take up a lot of space, so if you don't have a lot of room to work with or live in a small apartment, this probably isn't the best choice for you. 
On the other hand, if you have the space, surround setups provide the best sound quality and the most cinema-like experience you can get at home because you'll hear sound coming from everywhere in your room. 
Surround sound systems are best for audiophiles who are picky about their sound quality and are willing to pay the price for the ultimate listening experience. These systems are also great for people who love bass. Soundbars provide some bass, but not the same level as a surround sound system. 
However, those with a lower budget and less space and those who aren't as tech-savvy as others will have better luck finding a soundbar that suits their sound needs. 
Conclusion 
Any soundbar will improve the audio in your home theater, as almost all internal TV speakers are of poor quality and in the back of the TV. Even if your budget doesn't allow for the highest-quality soundbar with all the premium features and channels, getting a cheap soundbar is still worth it for the increase in ease of listening and enjoyment you'll experience.