If you're looking for a new subwoofer and want to improve the audio performance of your speaker system, 6 Best Subwoofers for Music Only in 2023 is the perfect article for you. You don't have to be an audiophile to want your music to sound better. We invite you to check out our reviews and dive into the world of fine music with us.
At A Glance: Our Top 5 Picks For Subwoofers For Music Only
What Are Subwoofers for Music Only and Do We Really Need Them?
Quick Summary: Our Top Picks For Subwoofers For Music Only
There are numerous different subwoofers out there but the fact is that only some of them can reproduce the low tones that are so important to really feel the emotion the author wanted you to feel. These subwoofers are sometimes referred to as subwoofers for music and, in this article, we are going to introduce you to 6 of them.
Everyone who loves music deserves an opportunity to really hear and feel it, and subwoofers are one of the most important components in this process. It is often considered that only the most expensive subwoofers can deliver high-end audio, but our list of the 6 best subwoofers for music in 2021 proves this theory wrong. Sometimes, even those reasonably priced subs can improve your listening experience significantly. So, the good news is that even those with thinner wallets can afford some great music.
Many subwoofers can't really reproduce the whole range of frequencies their manufacturers claim they can, and people tend to neglect that because they think that a great subwoofer is more important for a home theater experience without even realizing how important the subwoofers are for music.
Subwoofers for music only will enable you to:
No matter how much money you spend on your speakers, none of them can reproduce tones lower than 50Hz. The truth is that even some subwoofers can't do it. However, with a proper subwoofer for music, you'll be able to hear every tone (even those as low as 20Hz) and get the full depth of your favorite music.
Improve your speakers' performance
Subwoofers shouldn't overpower other speakers in a system. The purpose of a high-quality subwoofer for music is to improve performance by adding a proper amount of bass without introducing distortion or overwhelming the midrange.
Improve your listening experience without any distortion
While most speakers and subwoofers sound at least decent at moderate volumes, they fail the quality test when you turn the volume up to the maximum. A high-quality subwoofer for music only can enhance your whole listening experience by reproducing the lowest tones without almost any distortion (It is considered that THD lower than 1% is the optimal value).
---
Our list of the 6 best subwoofers for music only in 2023 contains different types and models of high-quality subwoofers. Some of them are quite expensive, while others are relatively affordable. One thing they all have in common is that all of them deliver perfect bass.
The List of 6 Best Subwoofers for Music Only
Best Deal: Polk Audio PSW10
The first product on our list of 6 best subwoofers for music only is one of Amazon's best sellers – Polk Audio PSW10.
Things we like
PSW10 is a powered 10-inch front-firing subwoofer, and it has a vented cabinet. It comes in a nice combination of black and silver colors. It's a big subwoofer (14.5 x 14 x 15 inches) made from MDF. It feels very durable and firm. It weighs whole 26 lbs.
The design is minimalistic, and it's perfect for all of you who love such a neat and clean look. On the front side, you'll see a removable black mesh hiding the silver front panel with the subwoofer itself and a bass reflex port. On the backside, there are power cord, input/output ports, volume control knob, low-pass controls, and a power control switch with three settings(ON, OFF, and AUTO). When the switch is in AUTO mode, the subwoofer willpower on the minute it gets a signal or when the user turns up the volume. If there's no activity for 15 minutes, the subwoofer will power off to save power.
When it comes to the sound quality, we assure you this subwoofer delivers amazing bass. Its frequency response spans from 40 to 160 Hz, it has a built-in 50-watt amplifier, and it can be used not only for music but also for watching movies, playing video games, etc.
The bass sounds great – it's detailed, punchy, but also very and it doesn't overpower other frequencies. It's most suitable for smaller and medium-sized rooms.
The subwoofer comes with a great warranty – 5 years for the woofer, 3 years for the amplifier.
Things we don't like
There's very little to dislike about PSW10. However, we must point out that it doesn't have magnetic shielding. This won't affect an LCD, Plasma, DLP, or LCOS TV, but if you use it with your computer or CRT-based TV, be prepared for some electrical interference.
---
Most Affordable: Acoustic Audio PSW-10
Moving onto the insanely cheap Acoustic Audio PSW-10. It's an incredible medium-sized down-firing subwoofer that comes at a more than reasonable price considering its amazing specs and features. The same model is also available as a 6, 8, 12, and 15-inch subwoofer.
Things we like
PSW-10 is a nicely designed MDF subwoofer with an elegant ashwood finish. Considering that this is a down-firing subwoofer, you'll find the 10-inch woofer on the bottom, surrounded by small legs. On the front panel, there's the company logo, while all the controls and ports are on the back. There, you have the power cord, phase switch, on/auto/off switch, gain/crossover knobs, line-in, as well as Hi-Level output and input terminals.
The subwoofer comes with a 6-foot-long dual RCA cable, RCA Y adapter, and a user manual.
In terms of performance, we have no complaints. This subwoofer is a great deal if you want great performance, but have a very limited budget. Its frequency range is fairly wide and spans from 25 to 250 Hz, while its peak power goes up to the incredible 400 W.
Thanks to the floor-oriented woofer, PSW-10 delivers very deep, full, and detailed bass. It can be used for music listening, or it can be a part of a home theater system because it works great with movies, too. Plus, it gets pretty loud, so it's also great for some gatherings and parties.
Things we don't like
On the downside, Acoustic Audio PSW-10 has one big flaw – the lack of important information. No matter how great of a performer this subwoofer is, it seems rather disrespectful when a manufacturer doesn't specify important information such as RMS power or warranty. The only thing they offer is the peak power value. Also, when it comes to warranty, there is no information at all, which leads us to the conclusion that buying such a device can be a great risk.
---
Top Choice: Sonos Sub S2 (Gen 3)
Unlike the previously described subwoofers, SonosS2 is not a cheap device. In fact, we can say that its price is so high that this subwoofer is meant only for serious buyers able to spend almost $900 on a single component. Is Sonos Sub really worth it? Scroll down and see!
Things we like
Like all Sonos products, SonosS2 is a good-looking device, a true example of minimalistic design and elegance. It's available in black and white colors. Despite the good looks, you should know that this subwoofer occupies a lot of space (15.3 x 15.8 x 6.2 inches), and it's pretty heavy (almost 36 lbs). However, it'll look great in any modern house or larger apartment.
The subwoofer has nicely shaped rounded corners, which is a true refreshment after all those regular boxy subwoofers with sharp edges. On the front side, you'll see the company logo, while the connections are reduced to the minimum – power supply and an Ethernet input. On the left, there's a button that will help you connect the subwoofer to the existing Sonos network. On the bottom, there are small, almost invisible rubber feet.
Sonos S2 features two oval, inward-faced drivers (with separate amplifiers), made to eliminate vibrations and rattling and leave you with nothing but amazing, distortion-free bass. The frequency can go as low as 25 Hz.
The setup process is fairly simple, and it's completed through the Sonos app that allows you to pair the subwoofer to compatible devices and control them all. This wireless control and setup are one of the main advantages of such a Wi-Fi-based device.
Things we don't like
The main problem of this Sonos model is compatibility – it won't pair to anything but Sonos speakers of the same generation. So, if you own Sonos speakers of the 2nd generation, this subwoofer is not for you. Plus, the changes made in comparison to the previous generation are mainly aesthetic.
---
Best Design: Q Acoustics Q B12
B12 is a sealed subwoofer made by the famous UK-based company Q Acoustics. It costs a few hundred dollars less than the models described in the previous review, but it still belongs to the group of expensive subwoofers. However, if you own a large house with enough space for such a beast and enough money to afford it, we can only support you.
Things we like
B12 has a 12-inch woofer, and it's available in (glossy) black and white colors. It's 15.7 inches tall (without stability feet), 15.7 inches wide, and 17.5 inches deep. It weighs 47.4 lbs. It must seem pretty large to you but bear in mind that many 10-inch subwoofers have cabinets of similar sizes. Thanks to the sealed enclosure, the manufacturers were able to place a larger subwoofer in a smaller cabinet that is easier to place.
The design is rather minimalistic. However, it's also quite refined and easy to combine with all kinds of furniture and other speakers. We are especially fond of its nicely rounded edges and the delicate Q sign on the front panel. On the back, you will find the status light as well as volume and crossover knobs. The interesting part is that the rest of the ports and buttons are hidden behind the magnetic metal cover on the back. When you remove the cover, you'll see the on/off/auto switches, phase adjustment switches, line-level input ports, and power connectors.
Let's now move on to the most important part – the sound quality. The subwoofer has a 440W peak power rating and 220W RMS. Its frequency range spans from 28 to 300 Hz, while its sealed cabinet provides you with powerful, deep, balanced, controlled, and detailed bass. The sound output is very smooth but don't you worry – you will get enough vibrations and floor-shaking whenever you need to.
Things we don't like
Except for the fact that this subwoofer is quite expensive, we don't have any major complaints regarding the quality or general value you get for the money.
---
Klipsch R-12SW
Klipsch R-12SW is another reasonably-priced 12-inch front-firing powered subwoofer that comes as a replacement for the R-120SW model.
Things we like
R-12SW is a good-looking subwoofer that comes in black color only with its user manual and dual RCA cable. The design is rather simple and minimalistic. The all-black style and matte finish make it easy to fit into any room.
On the front side, you'll see the removable black mesh that hides a big copper woofer. This recognizable color combination that Klipsch uses looks rather stylish. On the back, there are the power cord, gain and low-pass knobs, auto/on/off switch, phase switch, and line-in ports.
The cabinet is 16 inches tall, 14 inches wide, and 18.5 inches deep. It seems very durable and sturdy, while all the parts seem nicely assembled and resistant to heavy use. The whole subwoofer weighs 33 lbs.
In terms of the sound quality, we must confess this subwoofer lived up to our expectations. R-12SW delivers rich bass with a lot of detail and depth. Its frequency response spans from 29 Hz to 120 Hz. Its maximum acoustic output is 116 dB, its peak power is 400 W, and its RMS power is 200 W. Thanks to the high-quality components, this device can deliver clean and strong bass that remains undistorted, even at very high volumes.
Things we don't like
The only disadvantage we could think of is related to the fact that the power cord is not detachable, which means it can't be replaced if damaged or broken.
---
Polk Audio PSW505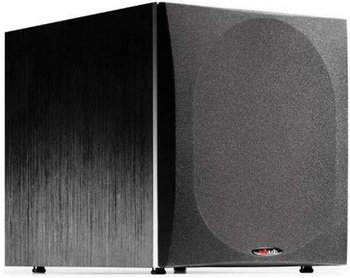 PSW505 is an amazing powered subwoofer made by a well-known speaker manufacturer – Polk Audio. Like many other Polk products, this sub is a great-performing and fairly affordable piece of audio equipment. Here are some of the reasons why it's so popular among audio enthusiasts.
Things we like
The subwoofer comes in a simple box with its detachable power cord and accompanying user manual. It's simply designed, without any excessive and flashy details – only the basic elements are included. The cabinet is quite large (16.1 x 15.1 x 18.2 inches) and it weighs 48 lbs. It's made from MDF, it has a black laminate surface, and the enclosure is ported.
PSW-505 comes in black color only. On the front side, there's a removable cloth mesh with the Polk Audio logo on it. The power connector, volume controls, low-pass filter, on/auto/off switch, phase switch, LFE input, line inputs, and hi-level inputs/outputs. Apart from this, there's also the vent that is shaped like some kind of a slot.
Moreover, this subwoofer is quite powerful. It has 300 watts of RMS power output, and its frequency range spans from 25 to 125 Hz. The lowest frequencies can occasionally get muddy, but if you need a great budget-friendly subwoofer that delivers fine and deep bass, you should consider trying Polk Audio PSW505.
Things we don't like
PSW505 is a great subwoofer that may not have the greatest looks, but it most definitely performs very well and can compete with some more expensive subwoofers. However, there's one major complaint we have about this device and this is the noise that the slightly oversized port produces. However, the noise is audible only at very high volumes. Apart from this, we have to say that the plastic feet at the bottom won't keep the subwoofer in place when placed on a smooth surface – you should probably place it on a carpet.
---
That was our list of 6 best subwoofers for music only. We sincerely hope we've managed to explain some of the most important things about these subwoofers. If something has remained unclear, make sure to scroll down to our FAQs section or leave us your question in the comment section below.
---
FAQs
Q: Do I need a down-firing subwoofer?
A: There are two types of subwoofers –front-firing and down-firing. Down-firing means that the sound they reproduce first hits the floor, which helps the subwoofer reach lower frequencies using less power. However, when buying these, you have to be very careful with placing if you want to get the necessary frequency response and the performance you're looking for. Otherwise, the sound won't be accurate.
This is the main reason why we advise users to stick to the regular front-firing models because they deliver great sound and are way less complicated.
Q: Which enclosure type is better – sealed or ported?
A: There is no significant difference in price between ported and sealed enclosures, but there's definitely a difference in sound coming out of them.
On one hand, sealed boxes provide more accurate and tighter bass. Sealed boxes are usually smaller and occupy less space in your home. The problem with sealed enclosures is that their bass output is not very deep. It can be punchy, accurate, controlled, but it often lacks that crazy rumble that gives you goosebumps.
On the other hand, ported enclosures need less amp power to produce loud, powerful, and rumbling bass, but you should know that that kind of bass is usually less accurate. Plus, ported boxes are larger and require more space.
As you can see, it's all up to you and your taste in music only. There's no right or wrong, only the things that suit you taste better.
Q: Are active speakers better than passive ones?
A: This choice doesn't depend on your taste, but it does depend on your patience and previous knowledge about audio equipment.
Active speakers come with a preinstalled internal amplifier and crossovers. On the other hand, passive speakers require more effort, time, and experience because you have to buy an amplifier separately and it's really difficult to know which one suits your system best.
However, we must notice that passive speakers tend to deliver better sound.
Q: What is speaker power?
A: The value expressed in watts in the specs is called speaker power and it's one of the things that determines speaker/subwoofer loudness. The higher the wattage, the louder the speaker. However, before reaching for the loudest model, ask yourself how large is the room where you want to place your subwoofer because extremely loud speakers aren't meant for small apartments.
Q: What is the best subwoofer for music only?
A: The best subwoofer for music is the one that matches all or most of your requirements. There's no final or definite answer to this question because only you can answer it depending on your taste, needs, budget, living space, etc. If you're looking for some suggestions, check out our list of 6 best subwoofers for music only. We sincerely hope that some of the subwoofers reviewed in this article will suit your taste.