Buying a JBL speaker is such a good investment. You always have a small, portable, device that is pretty simple to use, at hand whenever you throw a party, or simply want to listen to your playlist louder.
One of the best things about them though is the fact you can connect them together to create a bigger sound system.
But, how do you make the music come out of both of your speakers at the same time?
Well, if you want to learn how to connect your two JBL speakers quickly and easily, you've come to the right place!

JBL's current Bluetooth speaker line (source – JBL)
Is it possible to connect your two JBL speakers together?
Yes you can pair most types of speakers by JBL with each other. So, you most likely won't have a problem with connecting them together. You can even connect up to a hundred JBL speakers!
However, you should make sure that both devices have a JBL Connect (or JBL Connect+, or JBL PartyBoost) option. In case they do, you can move on to the next portion of our article where you'll find the exact steps on connecting your gadgets. 
One thing to have in mind is that only speakers featuring the same pairing/daisy-chaining technology are compatible with each other. So, JBL speakers featuring JBL Connect+ are not compatible with speakers featuring JBL PartyBoost.
For example, JBL Flip 4 features Connect+, while JBL Flip 5 features PartyBoost, which makes them incompatible and you can't pair those two together. It doesn't seem fair, but that's the way it is. 
Connecting a JBL speaker to your device
In order to connect two JBL speakers together, you'll first need to pair at least one with your phone or computer. If you're not sure how to do that, don't worry! We'll cover the topic in this section.
Connect a JBL speaker to a phone
No matter if you have an iOS or Android device, pairing your speaker to a smartphone will be a simple job, just follow these steps:
The first step will be disconnecting your speaker from the device it was paired with before.
In case it isn't your first time using your speaker, you should know that it will try to connect to the source it was previously linked to automatically. So, you'll have to hold the Bluetooth button for 3 seconds or more so your speaker disconnects.
You will know that it got into the pairing mode by the blinking light coming out of the speaker.
2.  In case you've never used your JBL speaker before, you should simply turn the Bluetooth on by clicking the button on the speaker.
3. Then, go to the Bluetooth settings on your phone and turn on Bluetooth. Your phone will detect all of the devices that are around in a matter of seconds, so wait for that and then connect your speaker with your phone when you see it on the list.
Phones with the IOS operating system will most likely just pair with the device and the process will be over. On the other hand, most Android devices require a password to connect.
The code is usually four zeros, but in case it isn't, you can find it in your speaker's manual. Put on some music to ensure that everything is connected and you're done!
2) Pairing a JBL speaker to your computer via Bluetooth
In case you prefer to pair your speaker to your laptop or desktop, you can do that as well. If you have a MAC device, you will find Bluetooth in the system preferences section of the Apple menu.
You should turn on Bluetooth on both – the speaker and your Mac, and then just wait for the computer to detect your speaker and pair them.
Those with Windows will find the Bluetooth section by either going to the system settings or typing "Bluetooth" in the search bar. In addition, you can find the icon in the action center.
Your desktop or laptop will then look for other Bluetooth devices. When they find your speaker, for which you previously had Bluetooth turned on, you can connect the devices together.
Connect your speaker to a TV or computer via AUX cable
If the Bluetooth on your laptop or desktop doesn't work for some reason, there is still a way! You can pair a JBL speaker with your favorite speaker with the help of an AUX cable. H
owever, if the problem is in your speaker, you should know that, in that case, you won't be able to connect it to another JBL speaker since having Bluetooth is necessary for that process.
The exact spot where the 3.5 mm audio cable should go is probably hidden on your speaker with a cover. You'll usually find it in the back of the speaker, but, in some models, it's located in the front or on the top.
After you buy the exact cable that you need, you should attach it to the speaker and connect the other end to your computer. Then, turn your speaker on.
Your next step is finding the sound section in the control panel of your computer, and then right-clicking on the JBL speaker among the sound devices. Choose "connect" and wait for a green checkmark. That's it!
You can connect your TV to a speaker in a similar manner. After you insert one end of the cable into the speaker and another into the TV's AUX IN, your devices should be connected.
On some TVs, you'll need to change the audio output to AUX for the pairing to be successful. When you finish all of the steps, play your favorite song to check if everything works.
How to connect two JBL speakers
It is so easy to connect two JBL speakers. They will practically do the job for you!
The first step is to turn on and connect one JBL speaker to a source of your liking just like we explained to you in this article.

Then, you should make sure that you connected everything properly. You can do that by playing some music and checking whether the sound comes out of your first speaker
The next step is to push the button with the "Connect" icon (or Connect+ or PartyBoost icon) on both of the speakers.
Wait for a few seconds to see if they are paired. The connection should be made in about thirty seconds. If the music is now coming out of both speakers, you successfully paired your two JBL devices!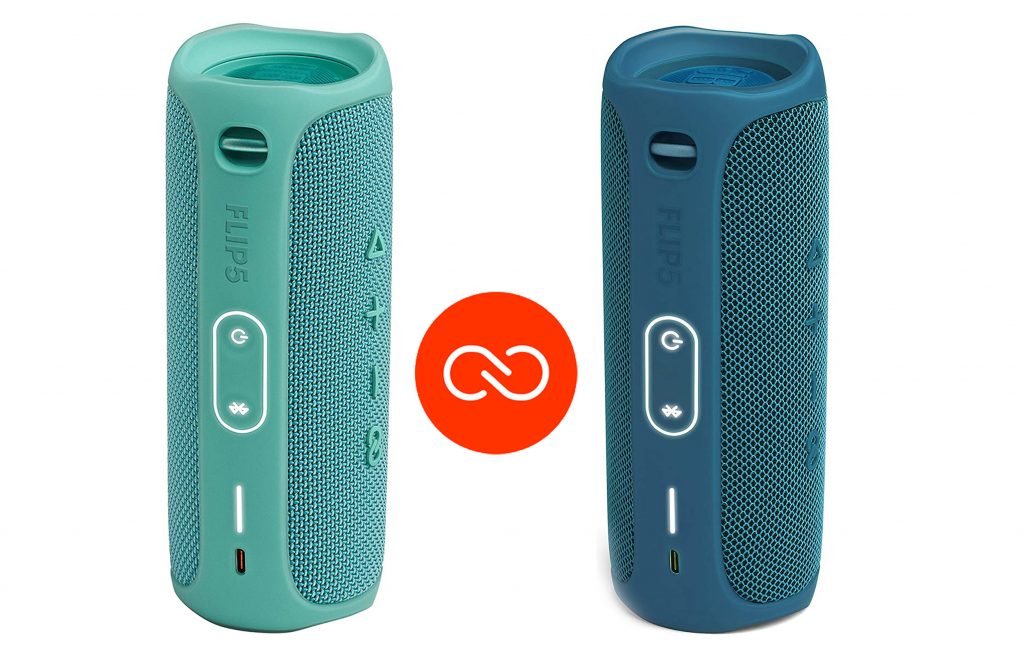 Pairing two compatible JBL speakers together takes just a few seconds
To pair multiple speakers together wirelessly, you just have to repeat the process and press the ''Connect'' button (Connect+/PartyBoost button) on each speaker.
Pairing multiple JBL Bluetooth speakers together is just as easy as pairing two
Disconnecting one of the speakers
In case you want to disconnect one of the speakers, you can do that in two ways:
The first one is to simply hold the "Connect" button (or the Connect+ button, or the PartyBoost button) for a few seconds and your speaker should be disconnected.

The second way is to turn off the device you want to disconnect.
In conclusion
There you have it – a complete guide to connecting two JBL speakers together. You can now pair your speaker to your favorite device as well as connect two JBL speakers together for an even better sound!
Is the process easier than you thought? Tell us in the comments below!